The Emerald Beach Villa 4 - Coastal Hideaway
Situated a stone's throw from Koh Samui's idyllic shoreline, this stunning villa is the perfect Thai-style retreat for your luxurious vacation
Boutique Location
The Emerald Beach Villa 4 enjoys its prime location right next to Koh Samui's spectacular northern shoreline, which means guests can enjoy direct access to the stunning stretch of sand that forms the local beach. The property is also conveniently positioned just a 20-minute drive from the island's airport and the bustling tourist town of Chaweng. This part of Samui benefits from lush tropical scenery and laid-back feel, thanks to the lack of major development in the area.
Boutique Features
Home to three bedrooms and two bathrooms, this stylish residence can accommodate up to six people comfortably. One of the bedrooms is designed especially for children and comprises a set of bunk beds, making this property the perfect retreat for a family. There's even a stock of family board games for families to entertain themselves. The property is nestled within the exclusive Emerald Beach Villas Estate – a collection of stunning holiday properties that blend traditional Thai-style architecture with contemporary design accents. Guests are welcomed to the villa via the landscaped courtyard and a curved sandstone pathway that leads directly to the house. They step through a stunning white archway to arrive in paradise. In addition to the specious interiors there's also a terrace dotted with fragrant Frangipani trees and a private Jacuzzi.
Boutique Design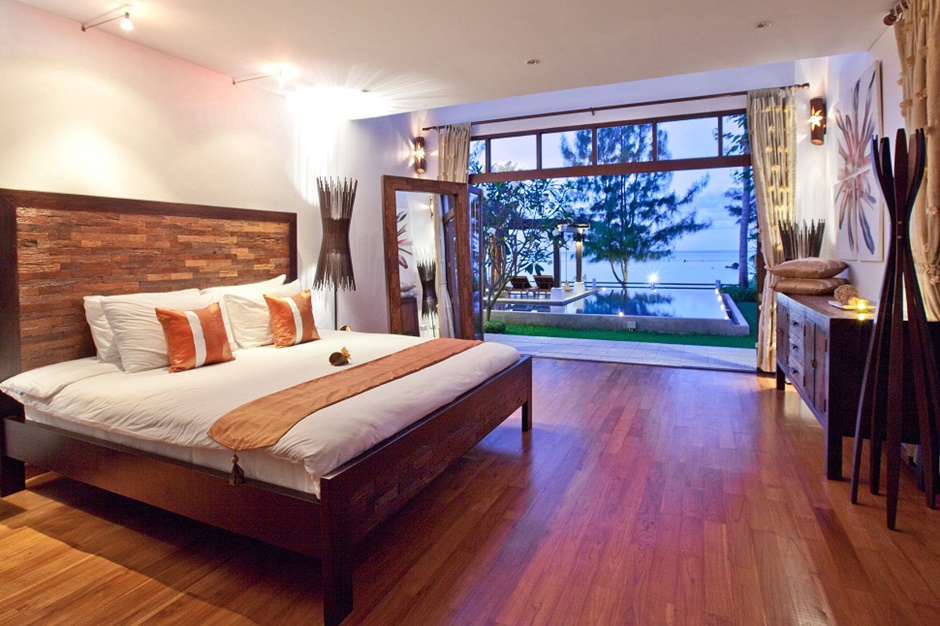 Classic Thai design accents infuse Emerald Beach Villa 4 with real wow factor, working hand-in-hand with modern design elements to create a spectacular beachside holiday bolthole. Smooth teak floors imbue the villa with a warm, characterful appeal and plush furnishings – including an enormous L-shaped sofa – give it the feel of a relaxing vacation retreat. A sculptural floating staircase forms an eye-catching focal point within the centre of the communal living space and floor to ceiling glazing and sliding doors mean that stunning ocean views of the Ang Thong National Marine Mark are never far away. An eclectic range of traditional Thai artworks complement the authentic feel of the dwelling, and a plush selection of silk cushions and throws add colour and yet more unique character. Heavy wooden furniture also instils a natural Thai richness to the holiday experience.
Boutique Service
Guests that opt to stay within this stylish beachside villa can expect top-notch service. The resident housekeeping team are on-hand throughout the stay to ensure that the property remains fresh, tidy and as alluring as it was the moment you first walked in. Guests can also expect a visit from the guest relations and concierge team. It's their job to advise on local attractions, sites of cultural interest and even nearby restaurants so that you can plan your dream Koh Samui holiday itinerary. If you want to indulge in a truly luxurious culinary treat, why not hire a professional chef for the day to whip up a gourmet masterpiece for you and your family to enjoy? He or she will also be able to conduct impromptu cooking lessons so you can learn the basics of cooking Thai food and transport the wonderful flavours of the Thai Kingdom back home to enjoy forever more. An in-villa spa and massage service is also available upon request.
Boutique Experiences
As well as being a stone's throw from the soft sand of Laem Noi Beach, residents that stay at The Emerald Beach Villas Complex are not too far away from Bang Po Beach – another of Koh Samui's hidden sandy gems. If you don't feel like venturing too far from the villa, in the summer low tide season the reef on Laem Noi Beach is dry for up to 100m, opening up the space for games of volleyball, beach cricket and shell hunting adventures. Nathon, Koh Samui's quaint port town is just a 10-minute drive away if you fancy exploring the heritage Chinese shop houses. There's also a fresh produce market there if you fancy picking up a few some ingredients to try your hand at traditional Thai cooking back at the villa, as well as a Tesco Lotus Express supermarket. Nathon is also a great place to pick up a few authentic local gifts and souvenirs.