Thanks to their secluded, tropical locations and array of lavish facilities, Thailand's upscale private rental villas offer the ideal romantic retreat for couples in search of a tranquil getaway
The sublime sunset views from Koh Samui's L2 Residence make for a romantic setting
For couples in search of a dreamy, romantic escape from the world, Thailand has long been the destination of choice. Stunning ocean views, spectacular sunsets and beautifully secluded locations mean that high-end private villas often provide the perfect love nest.
Many of the Kingdom's finest holiday rentals are situated in tropical island hotspots like Koh Samui and Phuket, where romantic activities range from hand-in-hand beach strolls to sunset drinks or even more active adventures for couples. Whether you're on a honeymoon or simply want to spend some quality time with your loved one, we explore why private accommodation make for an ideal stay.
Secluded location
The Headland Villa 1 enjoys an exclusive, secluded location
For couples looking for a romantic destination to enjoy some quality time together, a private villa in Thailand offers a host of advantages that many other venues cannot provide. Firstly, many rental properties occupy beautifully secluded locations, either on seaview hillsides or next to peaceful beaches. This means couples can enjoy the luxury of privacy, and relax far away from prying eyes throughout their romantic vacation. Koh Samui's exclusive Headland Villas are a prime example with a stunning position within a prestigious private estate of just six properties. The peaceful location provides the ideal tranquil atmosphere for loved-up couples to relax, unwind and enjoy one another's company in private. The fact that couples don't have to share the facilities with other guests, as they would have to at a hotel is another bonus on a romantic getaway. Whether they want to relax by the pool or in a hammock in the villa's grounds, they'll be able to do so in absolute privacy.
Room with a view
The charming views from Koh Samui's Headlands Villa 1
When you're enjoying some quality time with your partner, there are few activities more romantic than gazing out at the peachy pink hues of sunset with a chilled bottle of wine close at hand. Thanks to their glorious island locations, many of the private villas in places like Koh Samui and Phuket feature unbeatable ocean vistas. In many cases, the design of the property responds specifically to the topography and orientation of the site to maximise the far-reaching vistas. For couples staying within one of these villas, this means that the ocean often forms a breathtaking backdrop whether inside or out. The extra wow factor this brings adds a dreamy flourish to an already romantic holiday.
Strolling hand in hand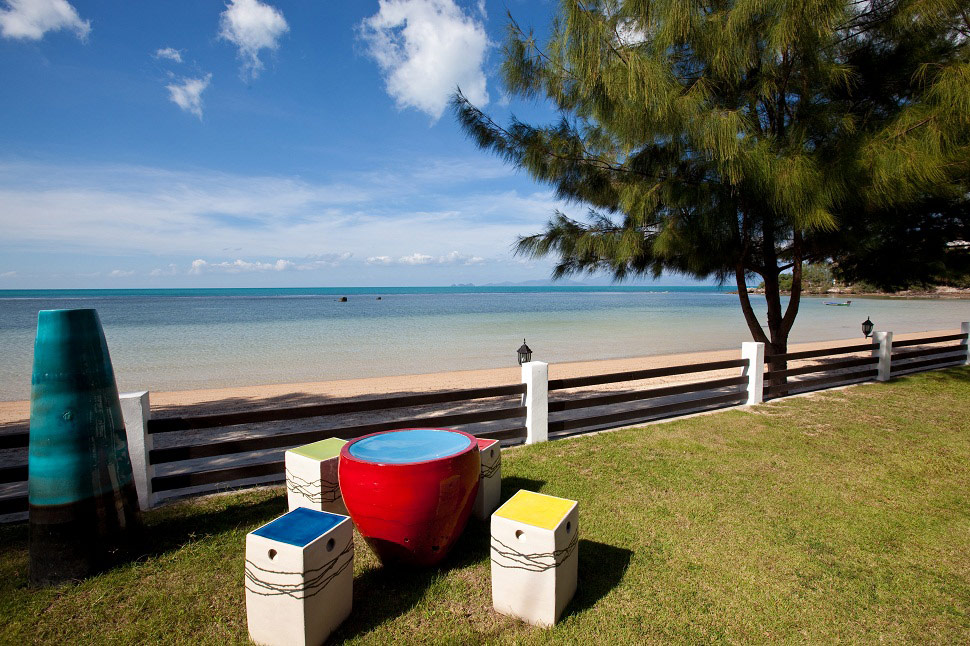 Laem Noi Beach is just metres away from Koh Samui's Emerald Beach Villa 4
For couples that want to get out and about to enjoy the tropical scenery together, exploring the local beaches is often the fun activity. Powder soft sand edged by lustrous turquoise seas are common sights at many of Thailand's beaches – especially those around Phuket and Samui. For couples keen to make the most of the glorious Thai coastline during their romantic break, villas featuring direct beach access definitely appeal. Koh Samui in particular is home to more than its fair share of high-end beach properties, just a pebble's throw from the ocean. Emerald Beach villa 4 is one such dwelling, and for couples keen to dial up the romance with plenty of sunset strolls, the beach is only metres away from the property. In fact, the villa's garden directly adjoins the beach, so couples can grab a beach mat and picnic to enjoy a romantic meal on the sand.
Romantic dining for two
Guests residing at Koh Samui's L2 Residence can enjoy a romantic meal overlooking sunset on the villa's outdoor dining terrace
For many couples, the most romantic holiday memories are always forged over a good meal with good wine. Of course, the setting helps hit all the right romantic notes – and few destinations could be better suited than a luxury villa, nestled in a secluded, cliffside position, enveloped by lush jungle and overlooking the ocean. If it's views you're looking for, then Koh Samui's L2 Residence is hard to beat. The open-air dining terrace provides the perfect location for a romantic meal, particularly half an hour after sunset when the sky lights up in brilliant shade of cerise. Of course, if you want to tuck into a romantic three-course meal with your loved one, you don't want to be slaving in the kitchen for three hours first – and that's where your villa's private chef comes in. Many of Thailand's luxury villas – including L2 Residence – come with the optional services of a professional Thai chef, who is able to whip up a plethora of delectable dishes, including Thai and international cuisine.
A private escape
The king size master suite at Koh Samui's Villa M comes with two private outdoor terraces, providing a sun-soaked spot for loved-up couples to relax
Of course, it wouldn't be quite right to have a romantic guide to Thailand's private villas that didn't mention the bedroom facilities. Like the communal living spaces, these generously proportioned spaces provide plenty of comfort and privacy for couples to relax and enjoy. Plush furnishings and the highest quality linens also help to set the scene and the master bedrooms in private villas all come with their own special ensuite bathrooms, some with their own sunken tubs and walk-in double shower stalls. The master suite at Koh Samui's Villa M takes privacy to another level. The bedroom features to private terraces, ideal for outdoor dining with gorgeous views out over sea to the shores of Koh Phangan.